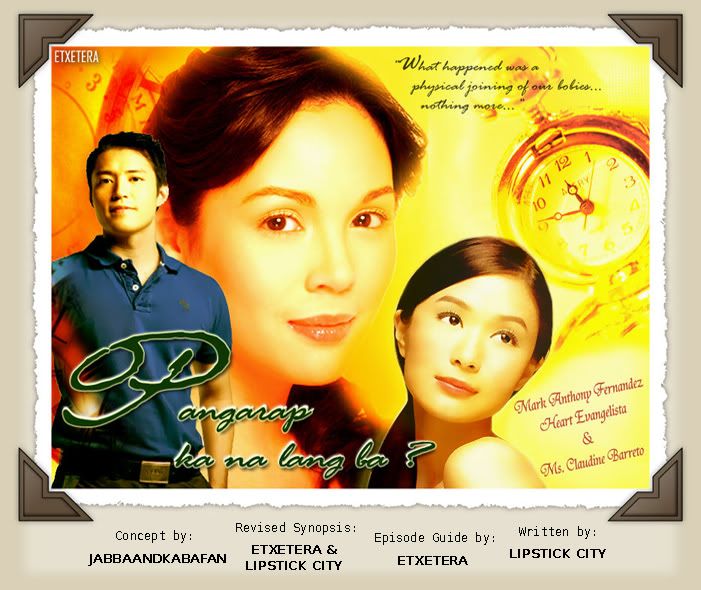 POGIBOY and CHINAGIRL are husband and wife. But their one-year marriage seemed destined to end in a painful annulment. Chinagirl was driving home from a 3 day business trip in Subic, the phone rang. It was Pogiboy on the other line. Heated arguments erupt over Pogiboy wanting to file a petition for annulment of their marriage pero ayaw pumayag ni Chinagirl. She's begging Pogiboy to try and save their marriage.

Driving too fast, BAM!!! "her car has hit a body. She was shocked! It was a man's body. She was numb with shock, as she has seen, what she has done. Chinagirl was so shaken, she went out of the car and she saw a man, blood coming out of his nose and a child beside him. Both were unconscious, and the man has blood all over. The man was holding the little body, it looked like the man tried to protect the little boy from being hit directly by her car. He doesn't look good and so is the little boy."

Sa takot at hindi alam kung ano ang gagawin, iniwan niya sa kalye nakahandusay ang lalaki at ang bata. She didn't know who the man and child that she had run over. She called 911 to report the incident with calm so she won't be questioned further of what had happened. At a distance nakikita ni Chinagirl tinutulungan ng mga medics ang mga biktima. The victims were rushed to a nearby Hospital. In the emergency room, Pogiboy is the doctor on duty. He attended to the victims. Patay ang lalaki at 50-50 ang bata.


OPTIMUM became hysterical after she was told about the incident.
Before they got hit by Chinagirl's car, the man and child are supposed to go to a surprise birthday party they prepared for Optimum. Labis ang sakit na naramdaman ni Optimum dahil sa mismong araw ng birthday niya nag aagaw buhay ang kanyang anak. She is devastated by the death of the man she is about to marry.

Chinagirl is so guilty sa nasira niyang buhay. She asked her doctor husband, Pogiboy, to talk to Optimum to appease her, keep her company, help her emotionally and get through the ordeal. Little did Chinagirl know may nakaraan pala si Pogiboy at Optimum.

A decade ago, Pogiboy and Optimum met and fell deeply inlove (tampisaw moment) but they bitterly parted ways. Si Optimum ang babaeng naging dahilan that Pogiboy almost gave up his life. Di matanggap ni Pogiboy ang mapait nilang paghihiwalay. Si Optimum ang buong pangarap niya sa buhay. Ngunit para kay Optimum ang lahat ng ito, "What happened was just a physical joining of our bodies... nothing more..."

Years after, Pogiboy met Chinagirl. Si Chinagirl ang tumulong at nagtiyaga kay Pogiboy to pick up the pieces, makabangon muli sa pagkakadapa at maging kung ano siya ngayon. During the entire time Chinagirl never saw a single photo of Optimum so she had no idea ano ang itsura ng ex ni Pogiboy except the nickname, Claud. Eventhough they are already married, Chinagirl loves Pogiboy more than Pogiboy loves Chinagirl. The word I love you was never spoken between the two of them.

Mapapalapit muli si Pogiboy kay Optimum at si Chinagirl ay mapapagtaksilan. Chinagirl will learn later that si Optimum ang babaeng naging dahilan noon that Pogiboy almost gave up his life. Ang babaeng gustong makasama ni Pogiboy bumuo ng kanyang mga pangarap. Chinagirl will confront Pogiboy bakit di sinabi sa kanya na si Optimum ang ex niya. Gustong iconfront ni Chinagirl si Optimum but how can she do that when deep inside alam ni Chinagirl that she put Optimum to this dilemna. She was the one who caused the child to be comatose and the death of Optimum's fiancee.

Pogiboy will be torn between Optimum and Chinagirl.

In a heart-breaking hospital scene with Optimum ng halos bumigay na ang bata mabuhay, Pogiboy finds out na siya ang ama ng bata. Narinig ni Chinagirl na noon ay papasok sana sa kwarto upang dalawin ang bata.


This is a Love Story that will break your Heart.
Episode 1 - The Surprise Party

Episode 2 - The Accident

Episode 3 - Heart's Guilt

Episode 4 - Mark and Claudine meets again

Episode 5 - The Love that Never Was

Episode 6 - Complication

Episode 7 - Jealousy and Betrayal

Episode 8 - Mark torn between Claudine and Heart

Episode 9 - Revelations

Episode 10 - The Ending