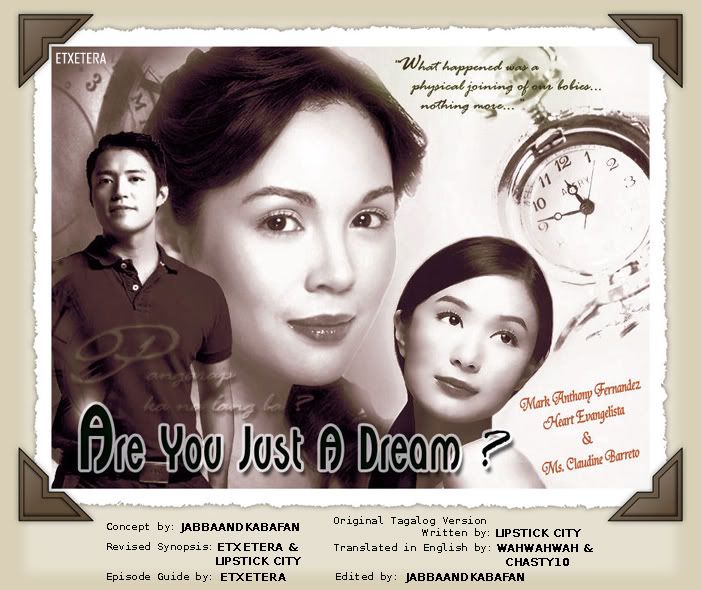 Concept by: jabbaandkabafan
Revised Concept and Episode Guide by: etxetera & Lipstick
Written by: Lipstick
Translated by: Wahwahwah and Chasty10
Edited by: jabbaandkabafan
Synopsis:
Mark and Heart are husband and wife. But their one-year marriage seemed destined to end in a painful annulment. Heart was driving home from a 3 day business trip in Subic when the phone rang. It was her husband Mark on the other line. Heated arguments erupt over Mark wanting to file a petition for annulment of their marriage and Heart disagreeing. She's begging her husband to try and save their marriage.
She's driving too fast and BAM!!!, her car hits a man's body. She was numb with shock, as she sees what she has done. Heart was shaking as she goes out of the car. She sees a man, blood coming out of his nose and a child beside him. The man has blood all over. Both were unconscious. The man was holding the little body. It looked like the man tried to protect the little boy from being hit directly by her car. Neither of them look well.
Very frightened and not knowing what to do, Heart leaves the scene. She didn't know who the man and child that she had run over were. She calls 911 to report the incident with calm so she won't be questioned further. She watches from a distance as the medics help the victims who were rushed to a nearby hospital. In the emergency room, her husband Mark is the doctor on duty. He attends to the victims. The man is dead. The child is comatose and has a 50-50 chance to live.
Claudine is the boy's mother. She becomes hysterical after she was told about the accident. Before they got hit by Heart's car, the man, who is Claudines fiancé and her son were on their way to a surprise birthday party they prepared for her. To make matters worse, this is the day of her birthday and her son is in the hospital, comatose. Claudine is devastated by the death of the man she is about to marry.
Heart feels extremely guilty about the lives she destroyed. She begs her doctor husband Mark to talk to Claudine and to console her through this ordeal. Little did Heart know that Mark and Claudine had a past.
A decade ago, Mark and Claudine met and fell deeply in love, but they bitterly parted ways. Claudine is the woman who caused Mark to almost give up on his life. Mark had a very difficult time accepting their bitter break up. In her last note to Mark, Claudine said that, what happened was just a physical joining of their bodies, nothing more.
Later, Mark meets Heart. Heart helps Mark pick up the pieces of his life and get over his broken heart. During that entire time, Heart never saw a single photo of Claudine so she had no idea what the ex who broke her husband's heart looked like. She only knew her nickname is "Dine". Mark and Heart get married but their feelings are somewhat lopsided. Heart loves Mark more than Mark loves Heart. The words "I love you" were never spoken between the two of them.
This accident caused Mark and Claudine to reconnect. Mark pursues Claudine and betrays Heart. Heart later learns that Claudine is the woman who Mark wanted to be with and share his dreams with. Her leaving made him want to give up everything. Heart finds out about Claudine's real identity and learns
about the betrayal. Heart wants to confront Claudine, but how can she when she knows that the accident she caused, killed Claudine's fiance' and left her son unconscious and on the brink of death?
Mark will be torn between Heart and Claudine.
In a heartbreaking hospital scene where the child almost dies, Mark and Heart found the truth about the identity of the child's father.
This is a love story that will break your heart.