Originally this was part of the suggested revised scenes for Lagrimas but since it is difficult to merge portions in novel version format into the completed tagalog script version without affecting some scenes so it was decided to post this as a short story titled First Encounter. Happy Reading!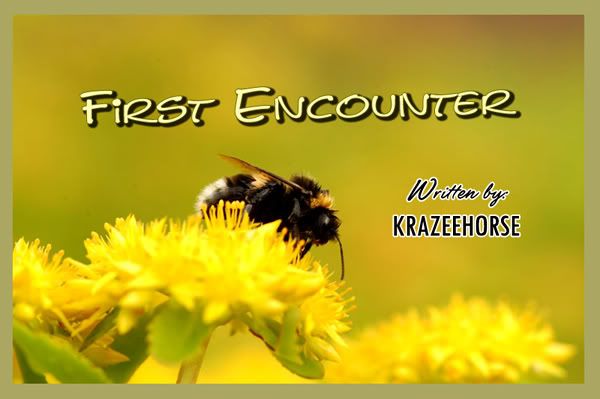 "Mark, that call was from the hospital… My wife is now in labor… It's our third child and I've always made it a point to be there for her." Mr. Villa elatedly informed him. "We're expecting the baby tomorrow yet but… Anyway, pare, I'll take this with me…" taking the folder with him… "and I will study your proposal and probably make suggestions of my own. I'll call you, say, two days from now."
After shaking hands, Mr. Villa left stopping briefly at the counter to talk to the cashier.
Mark was confident as he left the restaurant. "I could have clinched that deal tonight if not for that emergency." Mark thought. "At least kinuha nya ang proposal ko…" He further enthused.
Mark was still thinking about business when the elevator opened at the ground floor there he saw her walking towards the bar, her back towards him and found himself following her.
She sat at the far end of the bar and did not seem to be waiting for anyone and he wondered… "What is she doing here alone?" He asked himself observing her every move. The bartender, as soon as he saw her, gave her a drink without her even ordering her drinks. "She must be a regular." He mused.
"She didn't look like a hooker." Far from it, he construed looking at her intently as he sat at the opposite end. She'd looked… Not lonely, but alone. Definitely alone. Like him. Maybe that was the reason she aroused more than simple lust in him. But how could he tell nowadays. And there, he could see the men at the bar with them eyeing her direction.
"Sino 'yang bagong dating, pare." Mark heard one of the men ask the bartender looking at the woman.
"Ah si Miss Heart po… Madalas din po sya dito pero lagi pong mag-isa." The bartender replied as he replenished the man's drink.
"Pwes, ngayon, di na sya mag-iisa!" The man said confidently as he looked at his two companions.
Mark saw the bartender's apprehension and hesitantly warned, "Eh sir, pumupunta lang po sya dito para mag-unwind. Ayaw po nya, sir, yung iistorbohin sya ng mga gustong makipagkilala. Eh… minsan na pong may sumubok, at nakipagkilala kahit sinabihan na namin eh pinahiya nya yung lalaki. Nagkaroon pa nga po ng scene dito noon at na-dyaryo pa… Di ko lang po alam kung ano talaga ang nangyari pagkatapos noon pero di na po bumalik yung lalaki dito."
"Ah, ganun ba…"
"Pare…" one of his companions butted in… "baka malaman pa yan ng girlfriend mo… lagot…" Nagtawanan sila at umiling-iling ang lalaki sabay sabing… "Sayang maganda pa naman suplada pala…"
Seemingly uninterested in a conversation that did not concern him, Mark tapped the counter to get the bartender's attention.
"Yes, sir?" the bartender asked.
"Beer, please." Mark ordered.
Just as the bartender slid the mug of beer at the counter that stopped right in front of him, Mark saw Heart signaled for another order of her drink and he shook his head. "At malakas pa palang uminom." He tsked and continued observing her.
Mark was just returning from the comfort room when he saw Heart took something out of her bag but dropped it and broke into two pieces. Mark picked it up for her and rewarded him with a smile and muttered her gratitude without really looking at him. "Thanks." She said simply before he turned to leave.
"Darn it!!!" Mark heard her say and looked at her again. Nakita niya ang pagkadimaya sa mukha ni Heart habang tinitignan ang nahating cell phone sa kamay nya.
"Miss, can I help?" Mark offered seeing her desperation. And was there a tear there in her eyes that just threatened to fall?
Still not looking at him, she gave a curt reply. " No thank you…" then hesitantly continued… "unless you have a cellphone for me to put my SIM into…"
"I'm sorry… I haven't had time to buy myself one…" His reply earned him a sardonic smile from her.
"Yeah, right." that sneer on her face, Mark thought, was cute.
Mark chuckled. "I just arrived a week ago and had been busy since then that buying a cellphone slipped my mind completely."
Heart raised her head about to say something but decided not to and just nodded her head, swallowed the words and turned to look at her broken cellphone again. Frustrated, she replaced her cellphone in her bag and got her bill from the bartender. She got off the stool she was sitting on and feeling a bit tipsy, she nearly fell off balance if not for Mark who was standing right behind her. She stiffened defensively and immediately he withdrew his arm.
"Whoops!" Heart blurted out and swayed as Mark moved a step away from her. To prevent herself from falling, she immediately grasped his arm for balance. He then grabbed hold of her, as she leaned against his sturdy chest. "Hmm… you smell nice." She thought allowed and heard him chuckle.
"Easy…" Mark grabbed her to prevent her fall. "Listen, Miss – "
"Heart. You can call me Heart."
"Heart, listen, I'll take you to your car. Are you able to drive?" Heart looked up at Mark and only then she realized just how much she'd had to drink when she couldn't even see his face as clearly as she should.
"I did not bring my car. I was about to call my driver to pick me up but my phone got busted. I'm okay. I'll take the taxi." She assured him.
"Look, I'm leaving anyway. If you trust me enough, I'll give you a lift home." Mark offered.
"It's okay. I don't live far from here. I can manage. Thanks anyway."
Heart turned to go but the sudden movement made her sway and if not for Mark's sturdy stance, she would have fallen.
"I'm sorry." Heart said taking Mark's arm again for support.
"Come on, I'll take you home. No buts, please." Mark insisted this time and Heart knew it would be pointless to argue at this time and allowed him to support her.
Inside the car, Heart gave him her address and closed her eyes. She did not intend to fall asleep but she did.
Naririnig na ni Mark ang lugar kung saan nakatira si Heart pero hindi pa sya nakapasok sa loob sa kawalan ng pagkakataon at habang binabaybay ang daan, namangha sya sa laki ng mga bahay and he wondered kung talaga bang may nakatira sa mga iyon o wala.
"Talaga palang malalaki ang mga bahay dito, ano? Sabi ni Mark sabay lingon sa katabi na noo'y di nya namalayang nakatulog na pala. Nang malapit na sya sa lugar na patutunguhan, inihinto ni Mark sa tapat ng bakanteng lote ang sasakyan at saka buong paghangang pinagmasdan ang katabi.
Mark swallowed a lump in his throat as he looked at her and couldn't help reacting to her slightly opened mouth inviting for a kiss.
"You are in big trouble just thinking about it, boy!" looking down just below his stomach where a slight bulge was already evident. "Calm down and stay down, you SOB!" He admonished himself.
Mark was laughing at himself when Heart stirred awake.
"Andito na ba tayo, Mang Gener? She asked, slightly disoriented.
"Hindi ako si Mang Gener. Ako si Mark. I offered to take you home from the bar, don't you remember? O talaga lang malakas ang tama mo."
"I'm not feeling very well." Yun lang ang nasabi ni Heart sabay bukas ng pinto at tumakbo sa bakanteng lote na ikinagulat ni Mark at mabilis syang sinundan.
Sa kawalan ng mahahawakan o masasandalan man lang, napaluhod si Heart sa hilo habang isinusuka ang nainom at nakain nya. Muntik na rin syang sumubsob kung hindi sya naagapang kabigin ni Mark.
"Hey, where do you think you're going?" Biro ni Mark sa kanya habang hinahagod ang likod nya.
Sa taranta ni Mark, he did not know where his hand was and what it was doing until it was too late. As soon as he realized it, his reaction was immediate. He could feel himself harden against her back. Reluctantly, he slid his hand down to her stomach hoping Heart, in her drunken state wouldn't realize what had happened and what she'd done to him as a result.
"Why?" She asked looking up at him with those sleepy eyes.
"Why what? His gaze dropped to her mouth wanting so much to capture those generous lips with his.
"Why'd you stop what yer doin'?" She tried to open her eyes and he chuckled at her slurred words.
"You've had one too many and it wasn't meant to happen that way." He tried to explain though he knew it was fruitless. Obviously, she wouldn't even remember all these tomorrow. Or so he hoped.
"It was my first time and it felt good." She confessed.
"Yes, I know and I also am aware that you are drunk like a fish so I'd better take you home. I am not a saint, you know."
And I'll definitely hate myself tomorrow, he told himself.
"Touch me again." She begged almost asleep.
Mark almost gave in but he knew he wouldn't be a man to be proud of if he did.
"Hey, baby… I'll make you a deal, okay? Open your eyes and look at me…" He caught her chin between thumb and forefinger. Tilted her head so he could seeher properly. He heard her little catch of breath and a smooth hand wrapped around his forearm.raised her face to his. "If, in the days to come and you are sober enough, you still remember me and what happened here, I'll make love to you until you beg me to stop. For now, this will be enough." He kissed her on her forehead and helped her get inside the car.