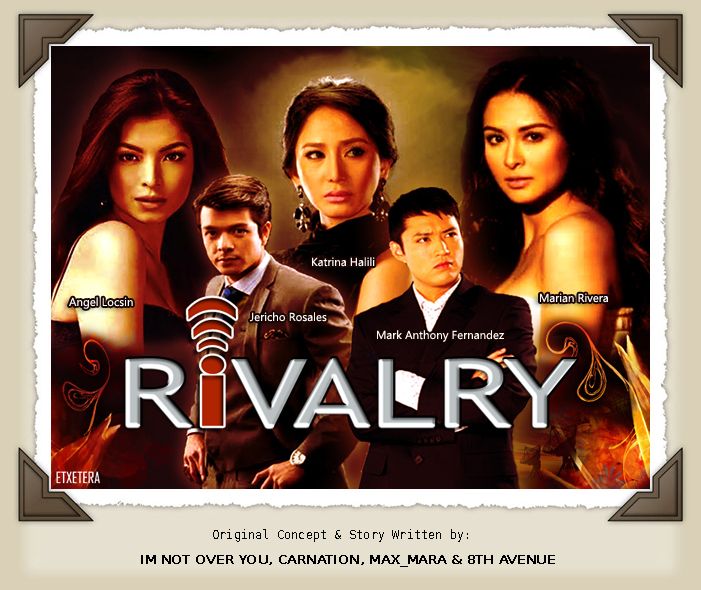 RIVALRY
A new TeleMAFia by Im Not Over You, Carnation, Max_Mara and 8th Avenue
Synopsis
ATC and SBS programs continue to clash with the ratings game and as their tv shows become more mature and more daring with regards to their storyline, ratings and rankings have proven their popularity among the televiewers. However, newcomer ME TV8 has raised the bar in primetime programming by introducing high quality short story series giving the two rival networks a stiffer competition.
Characters
Mark Anthony Fernandez, is the Chairman of the family-owned ATC Networks, the largest media corporation who is in the broadcasting business for more than 50 years. He became Chairman when his father passed on the reins of the company so he can enjoy an early retirement in one of their homes abroad.
Katrina Halili, is the newly appointed President of ATC Networks. She rise from the ranks. Regarded as clever strategist and astute leader, she is the most powerful person in the company.
Angel Locsin has just resigned from SBS Networks. Known for her achievements in her former job, ME TV8 believes that she is the right person to handle their Entertainment Department. Immediately, they offered her the position and she accepted the offer.
Jericho Rosales, is Angel's husband. He used to work as a senior executive of a marketing firm but later resigned from his job to start his own talent agency.
Marian Rivera, is a lawyer who wants to work in their family-owned SBS Networks, the second largest broadcasting company, but her father is against it. Her dad wants her to pursue a masters degree in public administration and eventually run for public office. In a meeting with the board of directors, Marian was able to convince them that she is the most qualified person to assume the position vacated by Angel.